Weather the subject is boyfriends or school, there's always going to be someone who feels she/he has the perfect solution to your problems. And she's/he's likely to insist on telling you what it is. It's human behavior as its compulsive best.

Many people these days are giving advice out constantly, always thinking that everyone would be better off if they just took some of their advice. Parents can be especially guilty of advice-giving. By trying to save their kids from the troubles they've already experienced, they can sometimes overdo it by telling their children what to do.

But believe it or not, parents do offer a lot of good advice.Even though parents don't always give advice in a way that makes kids listen- remember that they've been through and experienced a lot more then you have. Often they know what they're talking about, and what they have to say can be very helpful. They just might say it in a way that you don't like or understand.

ITS A HUGE RESPONSIBILITY TO GIVE ADVICE. THERE IS NOT ALWAYS ONE SET SOLUTION, NOR IS THERE ALWAYS ONE GOOD ANSWER. MAKE SURE THE PERSON WHO YOU ARE GIVING ADVICE TO UNDERSTANDS THAT...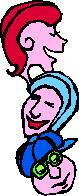 UNWANTED ADVICE?
Be direct-say,'thanks a lot for your concern,but this is really something that I need to figure out for myself. Thanks a lot for offering, I just really don't need any advice right now.' Those friends who are honest will respect ur wishes.
how should you respond when a friend comes to you for advice? The important things are not to judge and to be under standing. Remember that you can never really know what it's like to be in another person's shoes. And if someone is turning to you for advice about something serious-like if a friend confides that she has an eating disorder- the best thing you can do is encourage her to tell her parents or a trusted adult. On certain issues, even a best friend cannot be substituted for an expert.
be warned! Advice can come from in all sorts of shapes and forms, and the motives for offering guidance are varied. Many people genuinely want to be helpful. Some want to feel important, others like being in control, while still some want to assure themselves that their way is the right way. I personally have know lots of people who give out advice just to inflate their egos or to make themselves feel better. In fact the people who are the most in doubt about their own decisions are usually the one's giving out the advice. Advice especially unrequested advice is not only often not unneeded and unwanted, it is also usually inappropriate. Generally trustworthy people give advice because they've been asked. The reverse is also true. Sometimes impolite people give advice because they haven't been asked.
if your best friend asks "Should I lose weight" should you say "Yeah maybe a couple pounds?" There's a fine line between between being truthful and being helpful. It's usually OK to offer advice, only when it's something that the person can change or has control over. Some things are like broken glass, and can't be fixed
SO WHAT KIND OF ADVICE SHOULD YOU GIVE?
The best form of advice, often comes in the form of listening. Most people already know the answers to their problems-they just need helping in clarifying the solution and in learning to trust their gut feelings. Sometimes the very best advice you can give centers around not saying a word.
Just BEING THERE for a friend is often the most helpful role you can take on. People just need to be heard, and in hearing themselves, they can reach their own decisions. One of the problems with giving advice is that many suggest what they would do in the situation-which is not always what is best for the person.